Our trainee dental nurse Helena Kaldalons stole the show at last weeks Arundel Festival with her vintage performance with her sister Solveig Avina.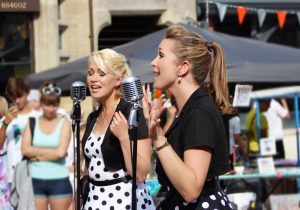 The fabulous due call themselves the Polkadot Sisters and put on quite a show as we're sure you'll agree if you were there!
From dancing in the street to singing their hearts out to the thousands of people who turned up.
We're super proud of our girl and couldn't help ourselves…we just had to share this with you all!
How utterly fabulous…watch this space…she may just perform at the practice for an exclusive evening soon…!